GHD's first-year students participated in the Ethics Retreat on September 20-21, 2019, a signature component of the Global Human Development Program at Georgetown University. Sitting cross-legged and propped up by colorful cushions in a circle at Georgetown University's Calcagnini Contemplative Center next door to the Shenandoah Mountains in Virginia, students and faculty gathered to think critically about the ethical dilemmas faced in the international development field.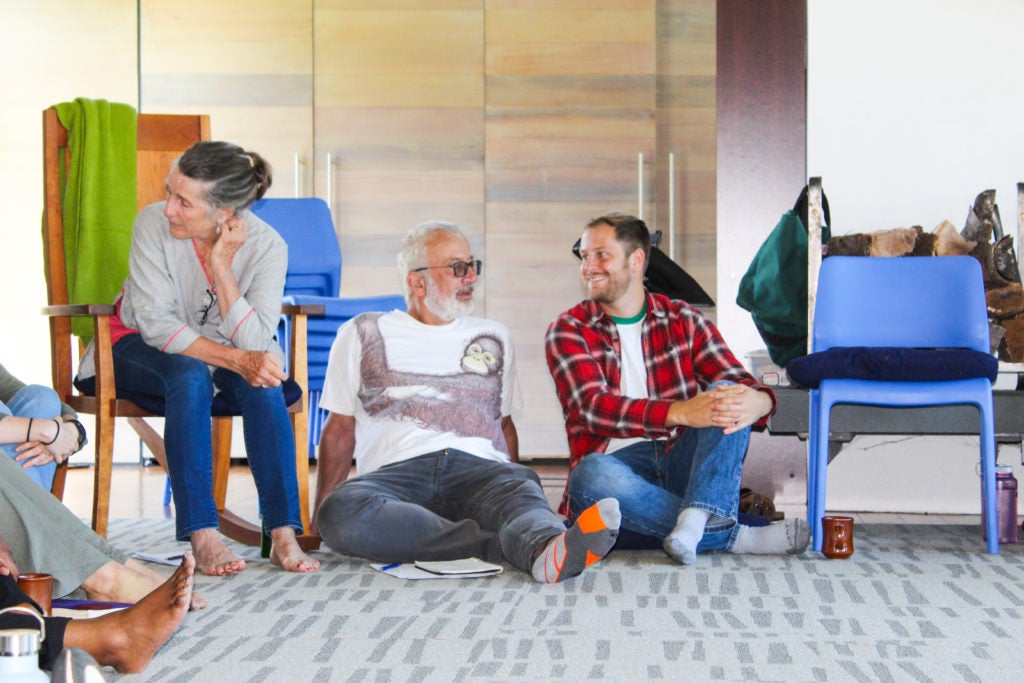 After exploring the grounds and kicking around a soccer ball, the retreat began with each student answering the questions "Why did you choose to work in development?" and "What is an ethical dilemma you've faced?" While seemingly straightforward questions, the answers shared among students and staff were anything but simple. The cohort of 2021 was asked to be vulnerable and open with their classmates and professors by digging deep into themselves and reveal their motivations and challenges experienced within international development.
After sharing these observations and challenges, GHD'21 students and professors participated in a series of small group discussions on ethical issues in the development field including corruption and humanitarian aid funding. There was also time for the first-year student cohorts to bond and play frisbee, chat about classes and life, eat s'mores, and even slackline.
Reflecting on his experience over the weekend, GHD'21 student John Downes said, "I thought this was a great opportunity to get to know my classmates and professors. I feel like I better understand peoples' worldviews and motivations for doing this work, and was inspired by many of the stories I heard. It forced me to reflect on my own motivations and identity, which is always a useful exercise."
The retreat was only two days but the short amount of time away from campus allowed students to contemplate and analyze difficult ethical issues and use time outside of the classroom to get to know their peers and professors.
"At first I was rather skeptical about the retreat as I did not know what to expect," Nindha Vidyasati says of her experience. "It turned out that I learned a lot about ethical dilemmas that are faced by fellow students as well as faculty members. It is sometimes tough to go through ethical issues on your own, but the retreat helped me in knowing that other development practitioners also face their own ethical dilemmas. I finally started acknowledging that we will often face ethical dilemmas in things that we are doing and I am not alone. All in all, I found the retreat to be eye opening."
This annual experience is an incredibly impactful piece of the GHD program that allows students to get to know one another and form stronger bonds while sharing in the difficult challenges that are a part of being a development practitioner. The Ethics Retreat represents the overall connected and supportive environment that the GHD Program offers. GHD students not only learn from books and classroom lectures, but also stories, emotions, and lived experiences from the wide array of people that compose the program.