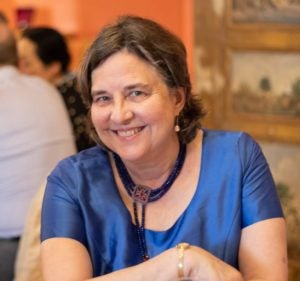 The Global Human Development Program celebrates Professor Katherine Marshall, who has been awarded the 2019 Louis B. Sohn Human Rights Award. The United Nations Association of the National Capital Area's award commemorates UN General Assembly's adoption of the Universal Declaration of Human Rights by recognizing individuals and organizations working to improve human rights in local communities and around the world.
Katherine Marshall is Professor of the Practice of Development, Conflict, and Religion in the School of Foreign Service and a senior fellow at Georgetown's Berkley Center for Religion, Peace, and World Affairs, where she leads the center's work on religion and global development. Professor Marshall has worked for nearly four decades on international development, with a focus on issues facing the world's poorest countries. Her long career with the World Bank (1971–2006) involved a wide range of leadership assignments, many focused on Africa. From 2000 to 2006, her mandate covered ethics, values, and faith in development work as counselor to the President of the World Bank. She served as Country Director in the World Bank's Africa region, first for the Sahel region and later for Southern Africa. She then led the Bank's work on social policy and governance during the East Asia crisis years. She has also worked extensively on Eastern Africa and Latin America. As a long-time manager, she has been involved in exercises addressing leadership issues, conflict resolution, the role of women, and issues for values and ethics. Professor Marshall was closely engaged in the creation and development of the World Faiths Development Dialogue (WFDD) and is its Executive Director.
Congratulations, Professor Marshall, and thank you for all of the work that you do!