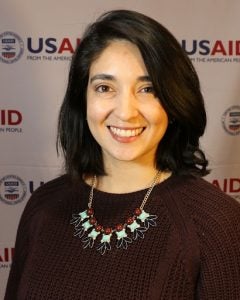 From a young age, Jackie Rojas (GHD'19) developed a unique perspective on life in developing countries through hearing her parents' stories of tumultuous times in Venezuela and El Salvador. These stories, and seeing the challenges faced by her extended family in Venezuela, have always been very present in her mind, and eventually led her to major in International Affairs and Political Science at Florida State University (FSU). At FSU, Jackie had her first experience with economic research, studying how country leadership impacts stability, and received a Boren scholarship to Mozambique through which she learned about how Mozambicans try to solve their community development challenges. These experiences culminated in her interest in utilizing data and evidence to inform policy related to international development.
Upon graduation, Jackie first began her international development career locally in Miami, where she worked with UNICEF USA on community engagement and advocacy to support the organization's global mission. A year later, Jackie was awarded a Fulbright Research Grant in Portugal, through which she completed a qualitative analysis on Portuguese development cooperation policy, particularly in Portuguese-speaking African countries like Mozambique. These experiences not only reaffirmed Jackie's aspiration to study evidence-based development but also motivated her to learn about how the U.S. engages in development cooperation and its role as a global donor. When she first learned about the Donald M. Payne International Development Fellowship, a USAID-funded program that awards scholarships for a two-year master's degree, internship placements, and appointment as Foreign Service Officers with USAID upon successful competition, she jumped at the opportunity.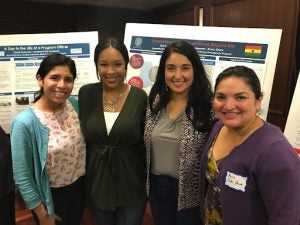 While waiting for her Payne application result, Jackie applied for international development graduate programs. The GHD program's small cohort size, highly flexible curriculum, and practitioner faculty with extensive networks stood out to Jackie. "A Foreign Service Officer's role is often very focused on high-level strategic thinking," Jackie said, and the seven core courses in the GHD program provide a strong foundation in economics, political economy, quantitative analysis, and project design and management that would prepare her to work in any phase of the development process as a USAID Foreign Service Officer. Additionally, the quantitative analysis and evaluation specialization would allow her to dive deeper into exploring the intersection between data analytics and development issues. These two factors, in addition to the close-knit cohort structure, led Jackie to choose the GHD program.
At GHD, Jackie got a glimpse of what her future role as a Foreign Service Officer would entail through her summer internship with the USAID Mission in Ghana. During her three months there, she engaged with government, civil society, and implementing partners on an assessment of democracy, rights, and governance in Ghana, with a cross-sectoral focus on youth and gender issues. Additionally, she assisted the advancement of USAID/Ghana's gender programmatic goals by creating advocacy materials on gender equality and women's economic empowerment. Through working on different projects, Jackie saw the greater connections between what she learned in the classroom in DC and the real world.
After her summer internship, Jackie decided to utilize her Capstone Project to further strengthen and apply her quantitative analysis skills. She and her partner employed various econometric and evaluation tools to produce a baseline regional analysis on the status and trends of adolescent girls, including socio-demographic and sexual reproductive health, in the Sahel region for the World Bank's Sahel Women's Empowerment and Demographic Dividend (SWEDD) project, providing recommendations to guide Sahelian Governments in the targeting of youth beneficiaries of SWEDD project activities. Ultimately, this Capstone Project expanded Jackie's knowledge and understanding of how to use data to inform policy-making and equipped her with tangible skill sets that she could bring to her future work.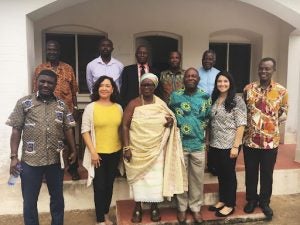 Currently based in Managua, Nicaragua, Jackie supports USAID's mission-wide strategic planning and learning efforts while also serving as a point of contact on gender and environmental issues. When asked which class was the most memorable for her and gave her the skills she needed to perform in her current role, Jackie fondly mentioned GHDP 504: Strategy, Design, and Implementation, then taught by Tony Barclay (former CEO of DAI). In this course, she and her classmates responded to a real USAID project proposal as part of their final project, which gave her authentic exposure to how development organizations work with USAID. Not coincidentally, it was precisely this class that spurred Jackie to apply for GHD in the first place because she saw the alignment between the course curriculum and the practical skills she needed as a Payne Fellow and USAID Foreign Service Officer.