Brendon Thomas (GHD'15) began his international development career as a Peace Corps volunteer in the Gansu province of rural northwestern China. When he first arrived in 2011, he remembered going down the side of a mountain on a dirt road to reach his village. By the time he left in 2013, a train track to the rural town was nearly complete, and an airport in the region was ready to open. While bearing witness to the astonishingly fast pace of infrastructure development in his village, Brendon also observed the impact such projects have on the surrounding environment and began to develop a strong interest in environmental issues, especially regarding land rights and human rights.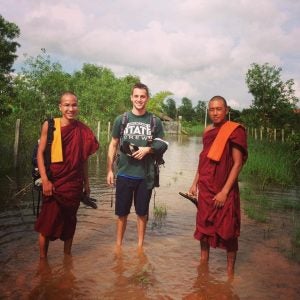 To deepen his knowledge in the environmental field and gain a fuller understanding of the international development landscape, Brendon came to GHD after he completed his service in China. The flexible and well-rounded curriculum in GHD allowed Brendon to dive deeper into exploring the development-environment nexus while equipping him with practical skills, including project management, evaluation, economics, and quantitative analyses. To apply his classroom experiences to the real world, Brendon interned with Vishnu Law Group, a leading public interest law firm in Cambodia, during the summer after his first year. During the internship, Brendon primarily assisted his team with drafting an environmental impact assessment law, which gave him first-hand experience working in land rights and environmental governance and further reinforced his goal to pursue a career in environmental justice.
Upon graduation in 2015, Brendon returned to Vishnu Law Group. He worked with various stakeholder groups to help the Cambodian Ministry of Environment redraft its environmental codes, specifically focusing on the extractive industry and renewable energy sector. Brendon described his work with Vishnu Law Group as "a fascinating learning process" as he worked to overcome the challenge of aligning the different interests and formulating the acceptance and buy-in of various stakeholder groups, including private sectors, civil society, and government. Later, Brendon moved to northern Thailand to work in the intersection of environmental justice and education with the organization EarthRights International. As a lead instructor at EarthRights School, Brendon led and coordinated intensive training sessions covering human rights, community mobilization, campaign, and environmental justice to prepare community leaders to draw on the power of their communities to protect the rights, natural resources, and livelihoods in the Mekong region. Brendon credited his success as a trainer not only to the knowledge he gained from his environment courses at Georgetown but also to the soft skills such as public speaking and writing that were central to many classes and extra-curricular involvement at GHD.
After spending several years abroad, Brendon recently returned to D.C. and serves as a Program Coordinator for United States Energy Association's Energy Market Investment and Modernization (EMIM) program. In his current role, Brendon is responsible for the planning and implementation of partnership activities throughout Asia to strengthen the energy security of U.S. allies, create rule-based and transparent energy markets, and improve access to affordable and reliable energy. While his career trajectory has taken him back to D.C., Brendon's passion for environmental issues and his solidarity with environmental activists and communities remain unbounded.