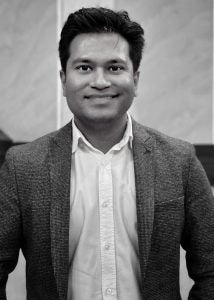 With an infrastructure engineering background, Rahul Mitra (GHD'15) approached graduate school with the hope of transitioning into the development sector, after his first-hand work experience with Engineers without Borders and seeing the impact that NGOs such as the Grameen Foundation and BRAC have made in his home country of Bangladesh. 
In order to break into the development and NGO sector, Rahul knew that he needed "a good understanding of the development context on the ground, the different types of projects and interventions that have proven to be effective, and how the socio-economic context of different countries fit into the larger global landscape." GHD stood out to him as an interdisciplinary program that not only would allow him to gain a "much broader and robust understanding of where development fits" but would also help him to navigate his role in the development space with his unique skills and nontraditional background. 
Putting Ideas into Actions: Bio-D and Capstone Project 
Prior to enrolling in GHD, Rahul and his friends designed a novel bio-digester technology to deliver clean energy solutions. He then took this idea with him to Georgetown and took part in the Social Enterprise and Innovation Fellows Program, currently known as the Social Innovation and Global Development Certificate. Through this program, he combined his entrepreneurial spirit with business acumen to launch a social enterprise called Bio-D, which won the VentureWell Award and secured seed funding for the start-up to take off. Bio-D collaborated with both public, private and nonprofit organizations in Madagascar to design alternative cooking technologies to decrease rates of deforestation and indoor-air pollution. Looking back on this experience, Rahul is incredibly grateful for the Social Enterprise Fellows Program and Professor Holly Wise for equipping him with the essential business knowledge and tools to transform his ideas into an on-the-ground social venture. His social entrepreneurship journey did not stop there; Rahul continued to work on Bio-D after graduation. The organization has since grown to five full-time staff working in Madagascar.  
Seeking to continue marrying his interest in engineering with development, Rahul chose to work with CARE USA as his Capstone client. During the 8-month capstone period, he developed a global dashboard for water functionality and sustainability, and designed point mapping tools to access and monitor WASH resources in urban, peri-urban, and emergency settings. This Capstone Project experience not only allowed Rahul to gain insights into how large NGOs (like those that inspired him to pursue a career in development) operate and function, but also challenged him to think about the future of development. Rather than focusing solely on the inputs and outcomes like most traditional development programs do, he paid special attention to strategically integrating sustainability into program design.
Scaling Impacts through Real World Experience
After graduation, Rahul spent four years working with San Francisco-based company Amplifier and later Uplift, a collaborative initiative committed to empowering women and families in 20 countries to overcome extreme poverty. In 2019, Rahul moved to Jordan and began working for the Danish Refugee Council. Drawing inspiration from BRAC's work in Bangladesh and his knowledge from the Refugees, Migration, and Humanitarian Emergencies Certificate, in this role he has primarily worked on enabling displaced and refugee populations to become self-reliant and lead dignified lives. The Refugee Investment Fund, formed by Rahul and his colleagues, offers investments of up to 5 years to selected local companies and start-ups based on their potential to positively impact refugees and host communities. The investments intend to enable business growth in support of more job creation and better access to relevant services or products, which in turn improve the financial inclusion of refugees and host communities and allow them to sustain themselves and live dignified lives. 
GHD Community and Beyond
By creatively harmonizing his talents in engineering and his passion for development, social finance, and refugee issues, Rahul became more comfortable in integrating his diverse experiences and expertise to amplify his impact in both public and private sectors. Since graduating from GHD, Rahul has been an active member of the alumni community and pays it forward by providing career mentorship support to international students who are like himself. He hopes that his personal journey inspires current and future GHD students to have the courage to explore different paths and eventually find their place in the world of development.