Teams in the Global Social Innovation Lab spent two days learning and developing products for their defined problems. The first place prize went to Safe Travels, the second place prize went to Momo for All, and the third place prize went to Adiona.
The Global Social Innovation Lab (GSIL) took place January 25-26th, 2020, where students came together to work in teams to identify, work through, and pitch a solution to enhancing equity, diversity and inclusion in global development. The design lab allowed students to co-create in teams, with support from mentors and advice from experts in the field. The lab packed a multitude of lessons and knowledge into two days.  Students learned about social innovation through sessions on designing for impact, problem definition and ideation, prototyping, and how to pitch a social innovation. As the pitch session came to a close, one of the judges, Matthew Fortier, the Director of Student Engagement at The Beeck Center, summarized the learning and accomplishment of the GSIL.  He remarked, "The fact that the judges had such a difficult time picking a winner is a testament to how well everyone did. There was a strong emphasis on Human-Centered Design (HCD), which is exactly what we wanted to see. It also says a lot that students were able to connect to vulnerable populations. This was really emphasized in the design process and students drew on prior experience and synthesized this with what they learned in the lab."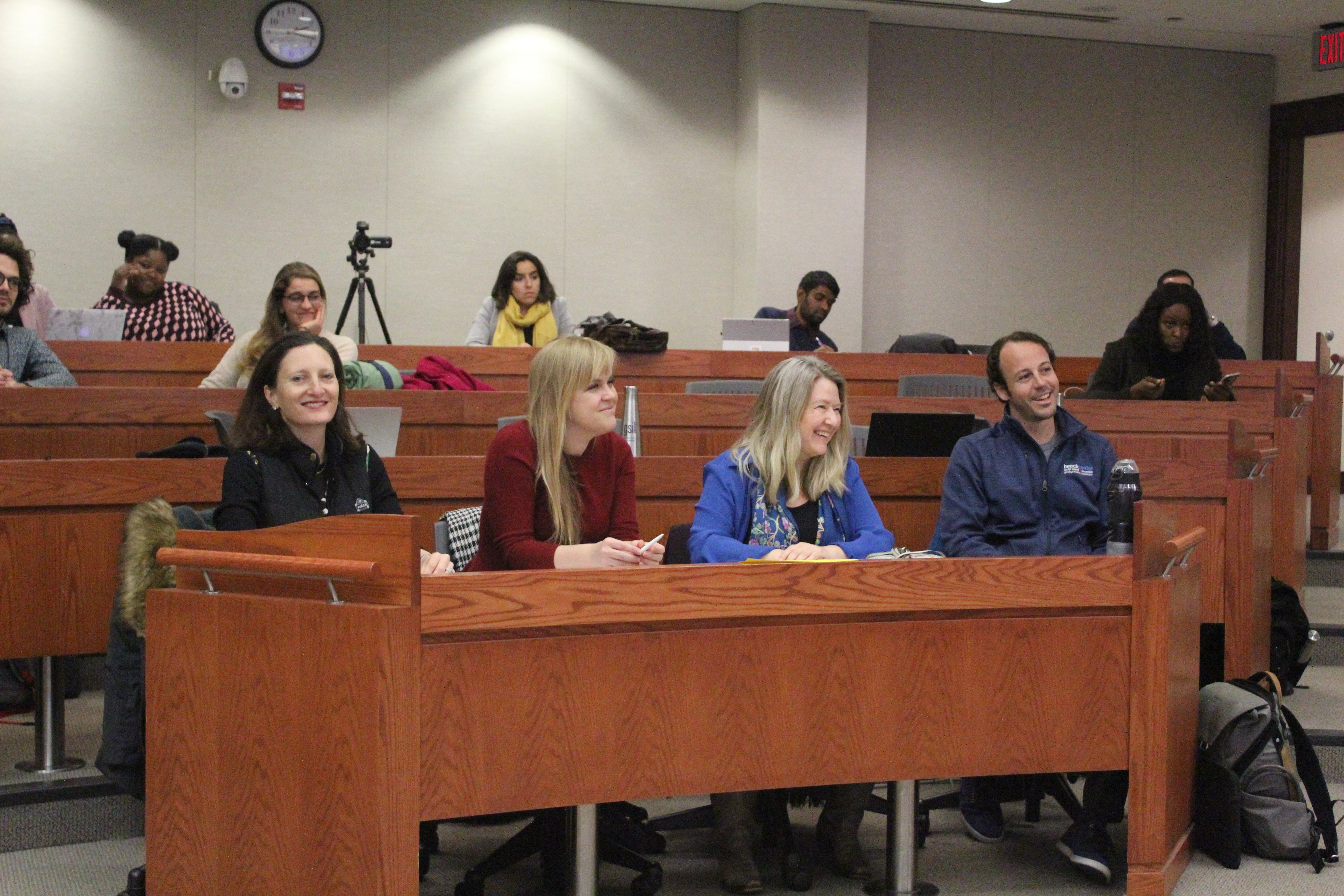 Safe Travels
The first place prize was awarded to the team called Safe Travels. This team included Babui Salsabil, Master in Global Human Development (GHD), Katie Sullivan, GHD, Emily Owen, GHD, Erika Wohl, McDonough School of Business (MSB) , and Dora Alicante Leon, GHD. Safe Travels created a free application for Bangladeshi women that connects female travelers with other female travelers going in the same direction. The main problem Safe Travels sought to address was to make public transportation safer in Bangladesh, a problem that is clearly evident with 94% of women reporting having issues with safety while commuting in public. The reasoning behind tackling this issue is that despite the universal prevalence that sexual harassment endures, it is rarely talked about and inhibits women's freedom of movement and thus compromises work, education, and the ability to contribute economically. The purpose of the app is to enable women to informally coordinate with other women and then travel together, a method that is both a cheaper and less stressful method for commuting. The app also offers many positive features, including a two-step authentication process, ability to chat with the matched traveler and view their live location, ability to report sexual assault/harassment incidents, report on their experience, and rate other users. The threat to safety of female travelers is significantly reduced with the use of the app and can also provide some comfort to friends and family who worry about the safety of female friends and family members. Not only can friends and family gain some peace of mind, but they can also gain additional time that they may have used to travel with their daughter or friend in the past. Finally, the long-term vision of the team is for the app to sell traffic pattern data to the government and interested parties to better handle the transportation system in Bangladesh once enough user data has been collected. The pitch presented by Safe Travels incorporated feedback from interviews from nine Bangladeshi female users and one male expert, an urban planning professional, into their design. Safe Travels' pitch demonstrably implemented HCD and produced an app that addressed the problem in a systematic, user-friendly, and innovative way.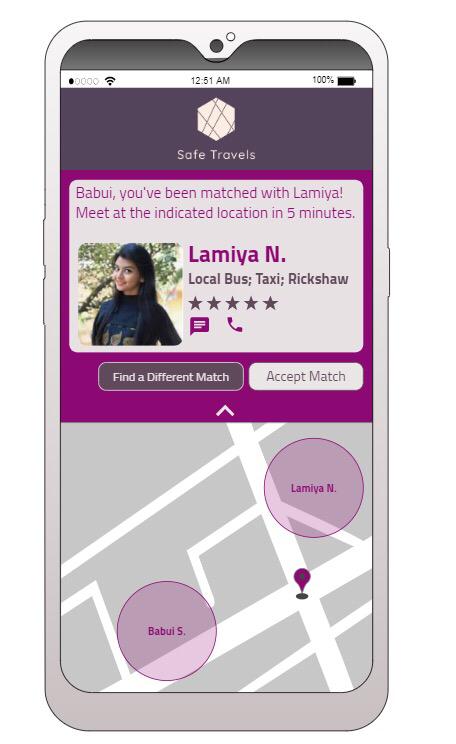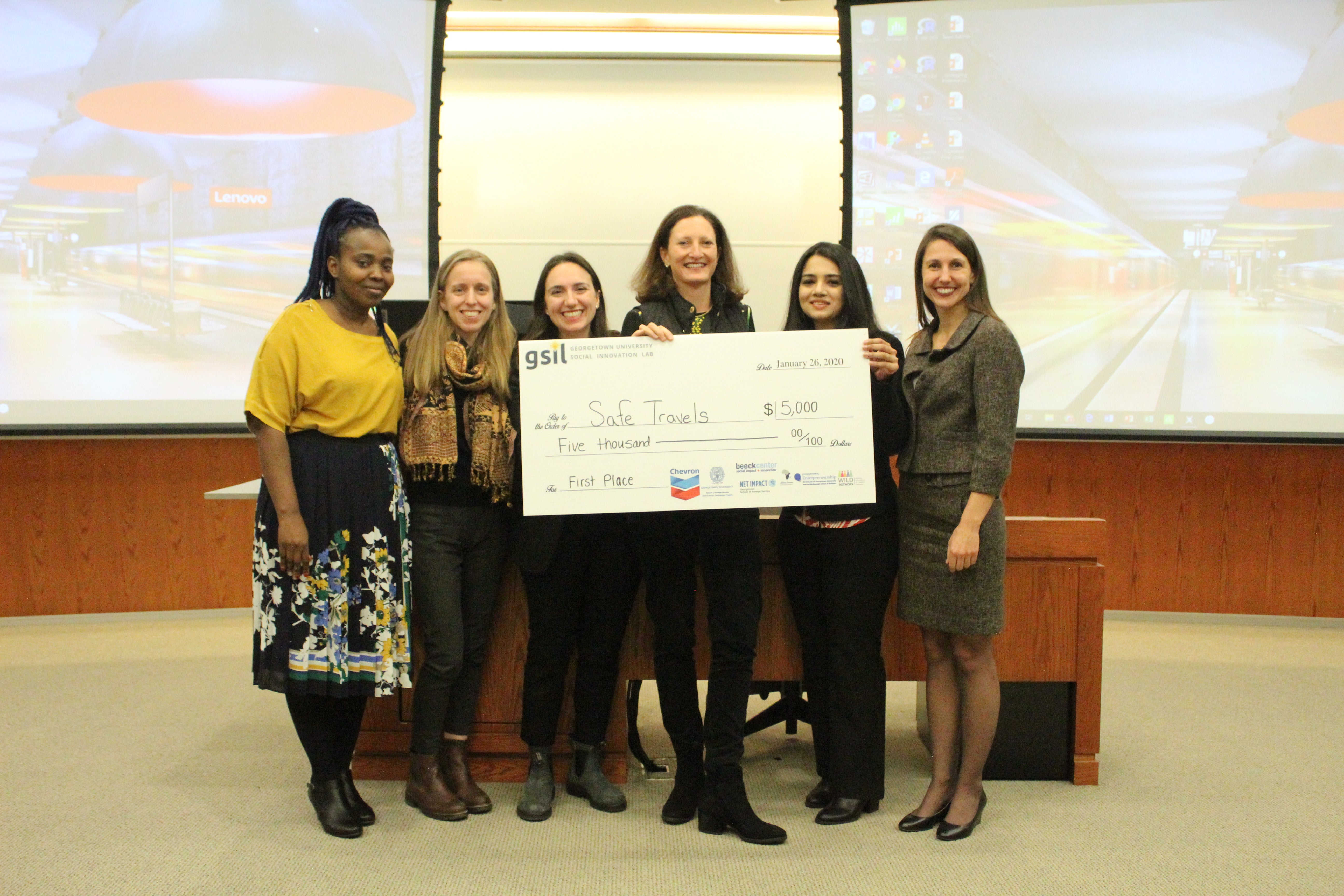 "The Social Innovation Lab reminded me why I had chosen to be in development in the first place leaving a banking career behind. Thinking about and implementing solutions to problems that affect people very close to me have been my life and blood for the last five years and I am so happy I have experienced it again here at Georgetown. The GSIL [taught me] the importance of Human-Centered Design. Thorough empathy research and user feedback was at the heart of our solution design with which we perfected our prototype. Winning the first prize was icing on the cake! For anyone who is passionate about social issues and wants to find solutions to them in an innovative and "co-opetitive" environment, I would highly recommend the GSIL to them." – Babui Salsabil, GHD '21
"To me, the 2020 Georgetown Social Innovation Lab was truly a platform for innovation where each team worked together using the HCD-approach and designed practical solutions to some of today's biggest problems. Some of the solutions the teams came up with were so real and outstanding, I find it hard to believe that we only had 10 days from program launch till the final pitches. I really enjoyed working with my team and falling in love with the "problem." In today's life we are so focused on finding solutions that we fail to both understand the problem and our end-users, and so, we end up with solutions that most of the time work only for us and are likely to fail. With HCD we learned to love the problem, listen to our users and together with them find the solutions." – Dora Alicante Leon, GHD '20
Momo for All
The second place prize was awarded to MoMo for All, who tackled financial inclusion by designing a tablet-based user interface to facilitate banking transactions for illiterate users. The Momo for All team included Emma Edwards, GHD, Ally Ryder, GHD, Jimmy Vulembera, GHD, and Christopher Bennett, MSB Venture Lab. Momo for All is the first visual and interactive user interface for mobile money transactions in Benin. The interface uses icons rather than the traditional written mobile menus so even illiterate users can easily make bank transactions without having to ask someone else for help. This kind of interface returns agency to illiterate users who wish to use mobile banking tools, but who might not want to ask someone else to conduct the transaction for them. When an illiterate individual asks someone else to conduct a transaction for them, it also creates a situation where they can potentially be exploited. Momo for All wanted to design something that could alleviate this dependency on others to make transactions. During the design process, the team members continually spoke with end users to gather their feedback, and then adapted the design based on their input. After gathering feedback from illiterate users in Benin, Cote D'Ivoire, Tanzania, and the Democratic Republic of the Congo, the students realized that their icon for savings, a piggy bank, is an Americanized symbol for "savings" that would not be recognized by someone in Benin. In Benin, people often use Village Savings & Loan Associations (VSLAs) where money is placed in a lock box for savings purposes. Thus, the team decided to switch the icon to a key, which is a much better symbol of savings for the Beninese. In addition, the interface also uses biometric identification so illiterate users can log in and out of their account using a thumb print, without having to type a username and password in. Finally, what makes MoMo for All's design unique is that it does not require users to change any of their habits. Mobile banking is very popular in Benin where most people live hours away from the nearest bank. It is neither a smartphone app, since smartphone penetration remains low in Benin, nor is it a mobile operator in and of itself. The students explained in their pitch that they would be an independent business selling the interface to existing mobile networks that already have vetted agents and a clear following and foundation in Benin. This way, people do not need to change their behaviors in order to improve the way they manage their money and savings. Instead, they only have to adapt to the new interface with the mobile network they are already using. Momo for All focused on a specific problem in Benin and came up with a unique and innovative design to assist the vulnerable population most affected by this problem.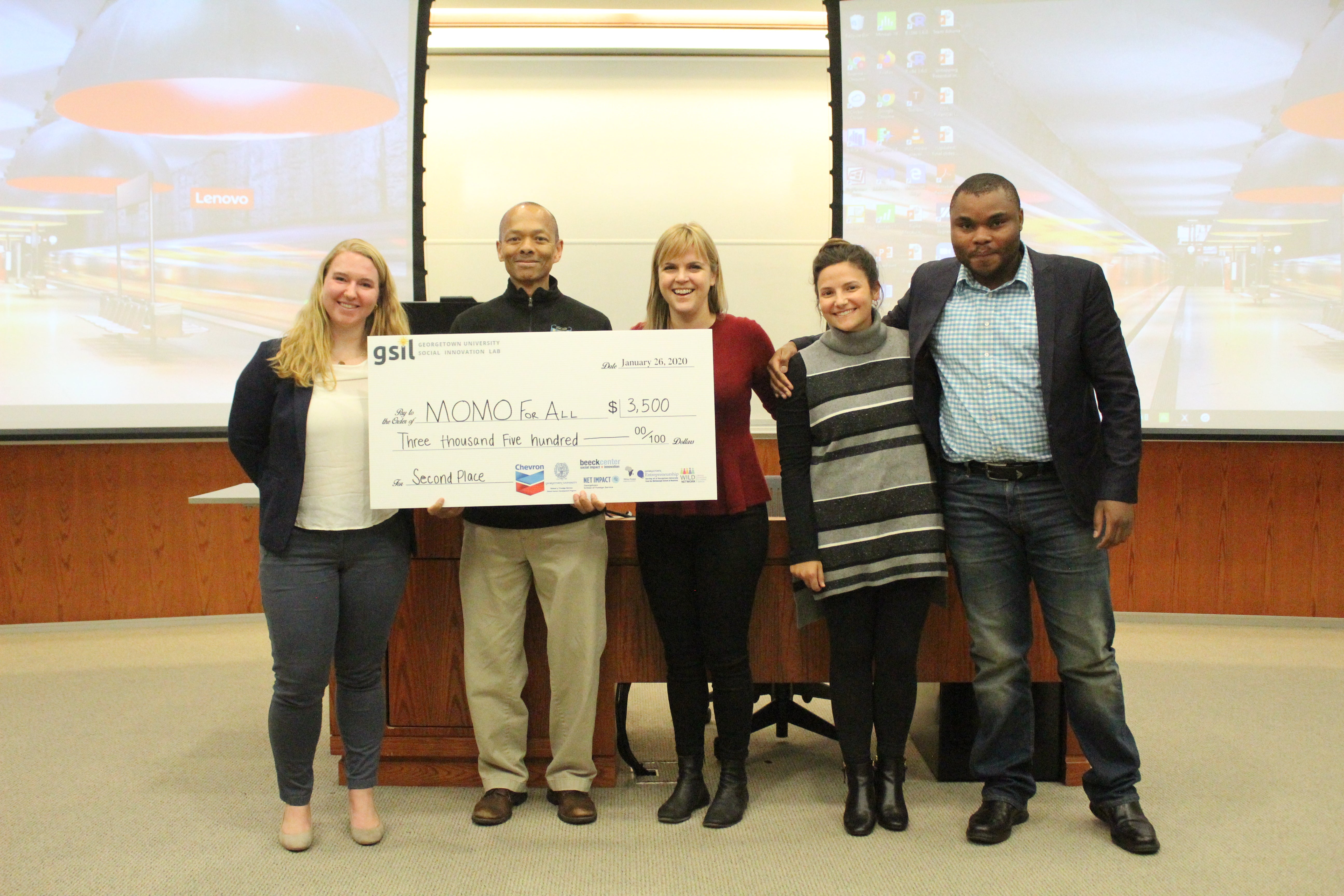 "The highlight of the Global Social Innovation Lab for me was being able to put into practice each stage of a Human-Centered Design project, with assistance and advice from experienced mentors along the way. Since I am passionate about social inclusion in development projects, I enjoyed taking a deep dive into a financial inclusion solution by researching what other projects had been pioneered in the space and taking lessons from them." – Emma Edwards, GHD '20
"I really enjoyed participating in the GSIL because it allowed me to use Human-Centered Design in tackling a global problem by creating an innovative solution in a short period of time." – Ally Ryder, GHD '20
Adiona
Team Adiona came in third place in the competition. Team Adiona took their name from the Roman goddess of weather and safe return and designed their product in order to assist mobile refugees with weather durability. Mobile refugees are a highly transient population who often receive used tents that are not meant for long-term use. This is a huge burden for mobile refugees who are unable to have a secure structure to reside in. Thus, Adiona created a durable material that functions as a poncho and tent covering. It has a reflective side for high heat and a dark side for sun absorption. When worn as a poncho, the dark material also functions as discrete fashion. Although the material is aimed towards mobile refugees in informal camps, it is also could be beneficial for a number of populations including the houseless, campers, and NGOs. The team included Tessa Bloechl, GHD, Evelyn Dan Epelle, Culture, Communication and Technology Program (CCT), Kate Wagner, Center for Contemporary Arab Studies, and Andreas Beissel, CCT.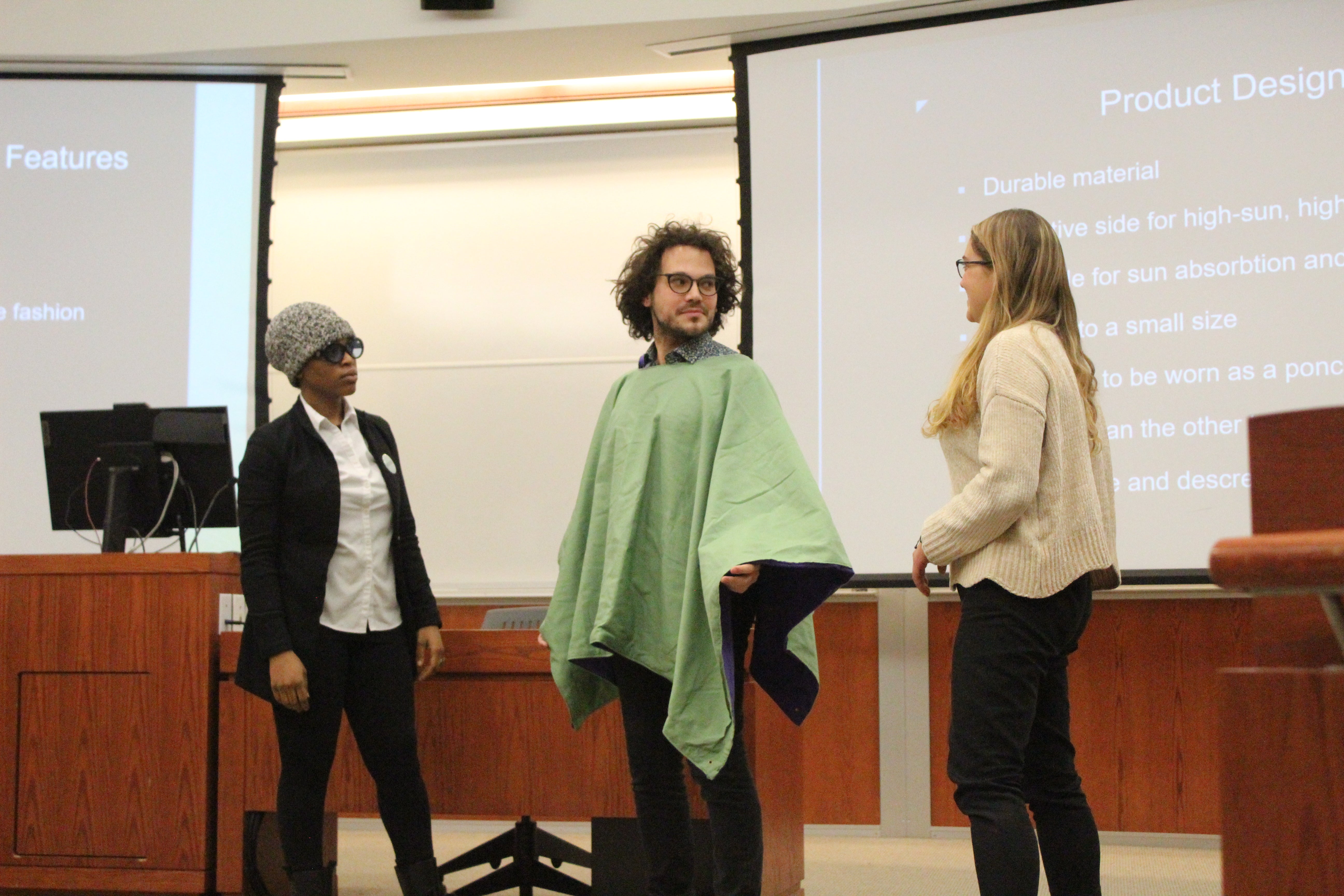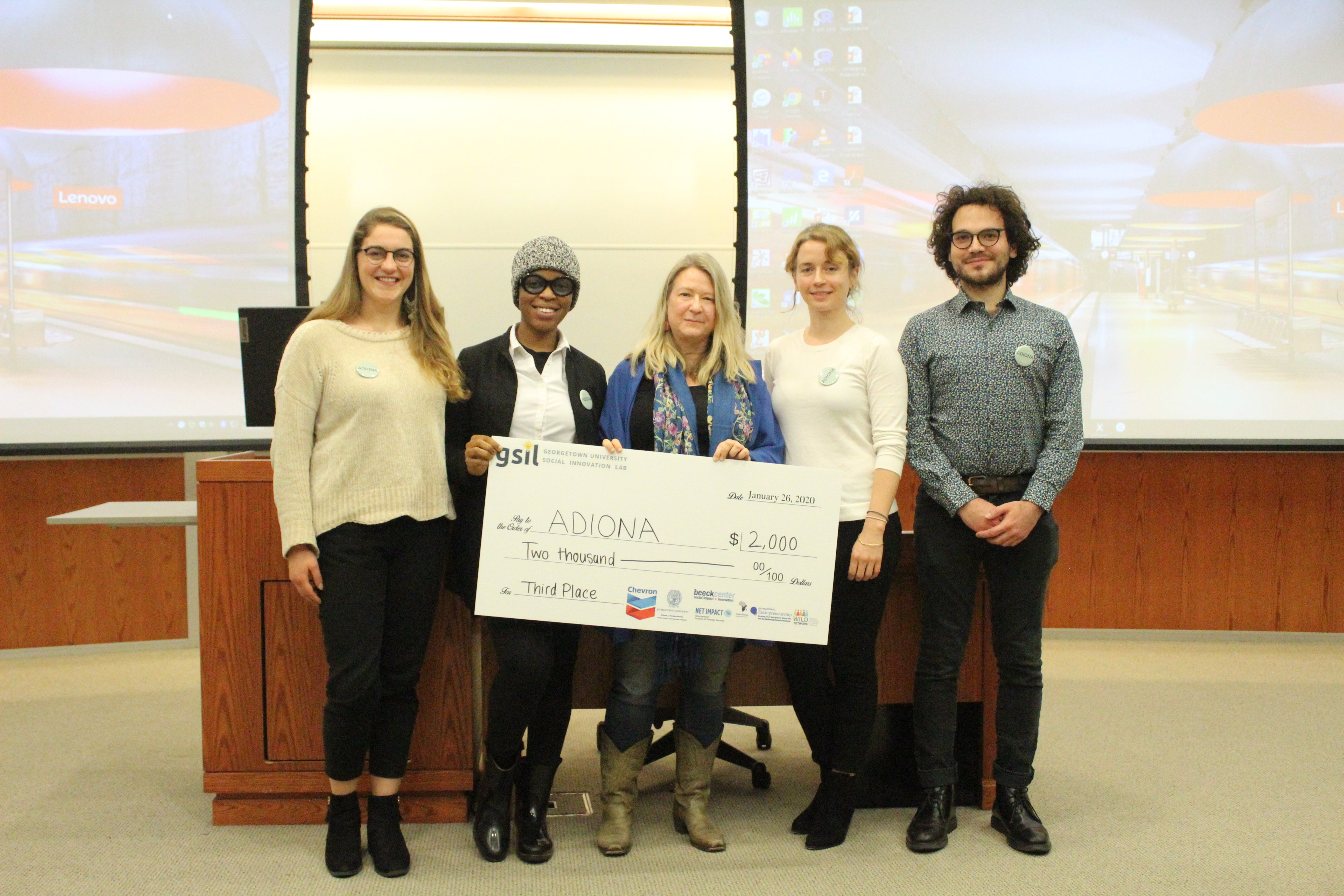 "I think it is important for students to put their brains through the social innovation design thinking process that GSIL offers so as to sharpen their thoughts and put learned theories to practice and see what works and what doesn't." – Evelyn Dan Epelle, Communication, Culture & Technology CCT '21
"The lab gives students a hands-on experience in Human-Centered Design for social innovation, access to amazing resources, networking opportunities, and of course, the chance to win money. Moreover, the emphasis on the iterative process provides an extra layer of learning and the opportunity to implement your findings. The time constraint also forces participants to think and execute strategically. My favorite parts of the lab were going out and conducting interviews and learning about angles of the issue or possible solutions we never could have thought of, and creating a physical prototype that we could show people and test." – Kate Wagner, Center for Contemporary Arab Studies
Honorable Mentions
Team Connectr addressed the lack of financial literacy in the Philippines by pitching a mobile platform to connect aspiring entrepreneurs in Manila with certified consultants in microfinance to fill this information gap. Team members included Kyle Clements, GHD, Adam Tarczali, Yucca Reinecke, MS-Economics, and Nyasha Gandawa, MSB.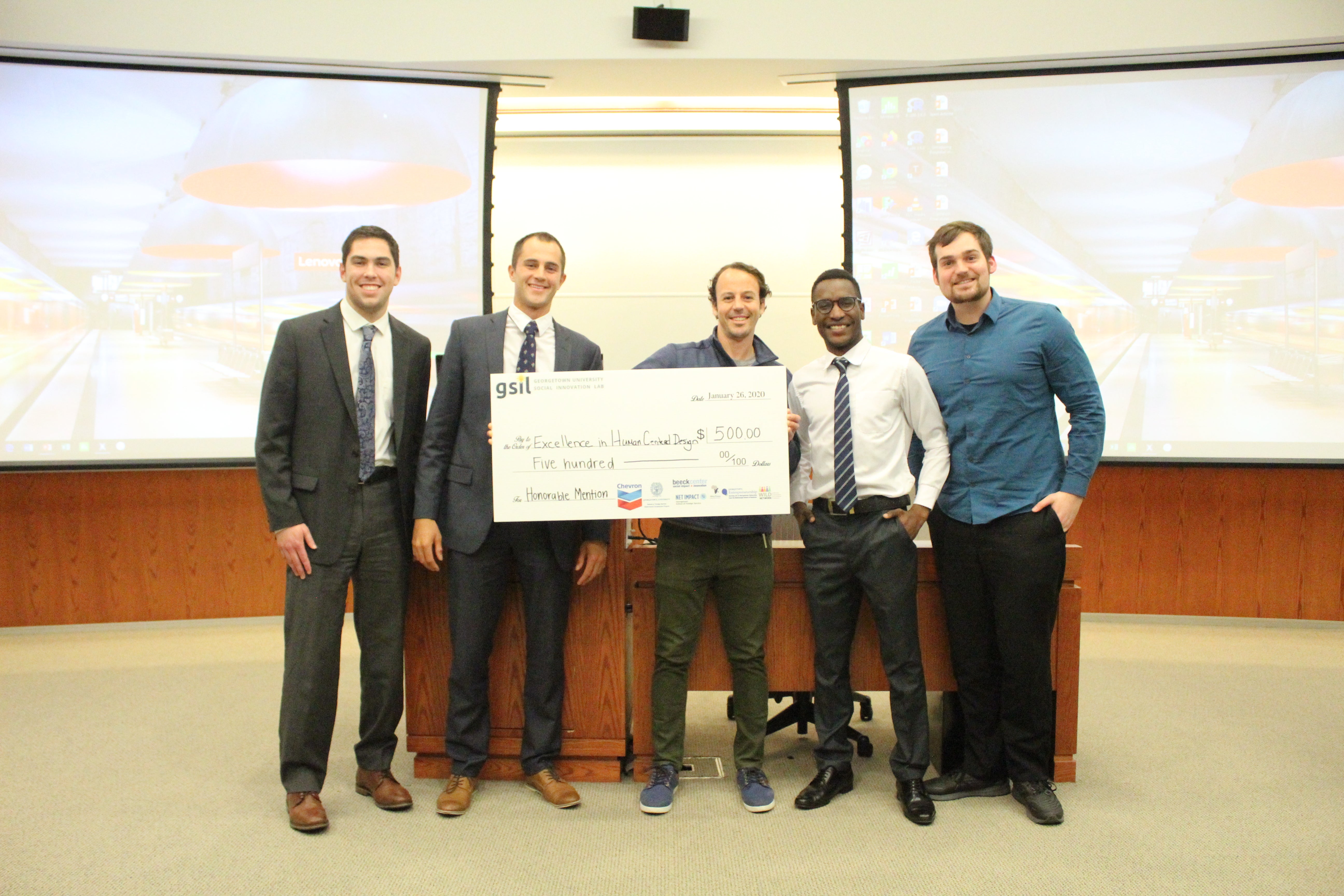 Team Skuul's pitch was focused on students with learning differences attending college, who are often stigmatized, resulting in untapped potential and a loss to society. Skuul addressed this problem by proposing the creation of an inclusive community which redefines the pathway to success for those with learning differences and rebrands dyslexia through marketing tools like t-shirts. Team members included Zaki Zakaria, GHD, Everett Smith, MSB, Muhammad Ezzat, GHD and Daniel Lee, McCourt School of Public Policy.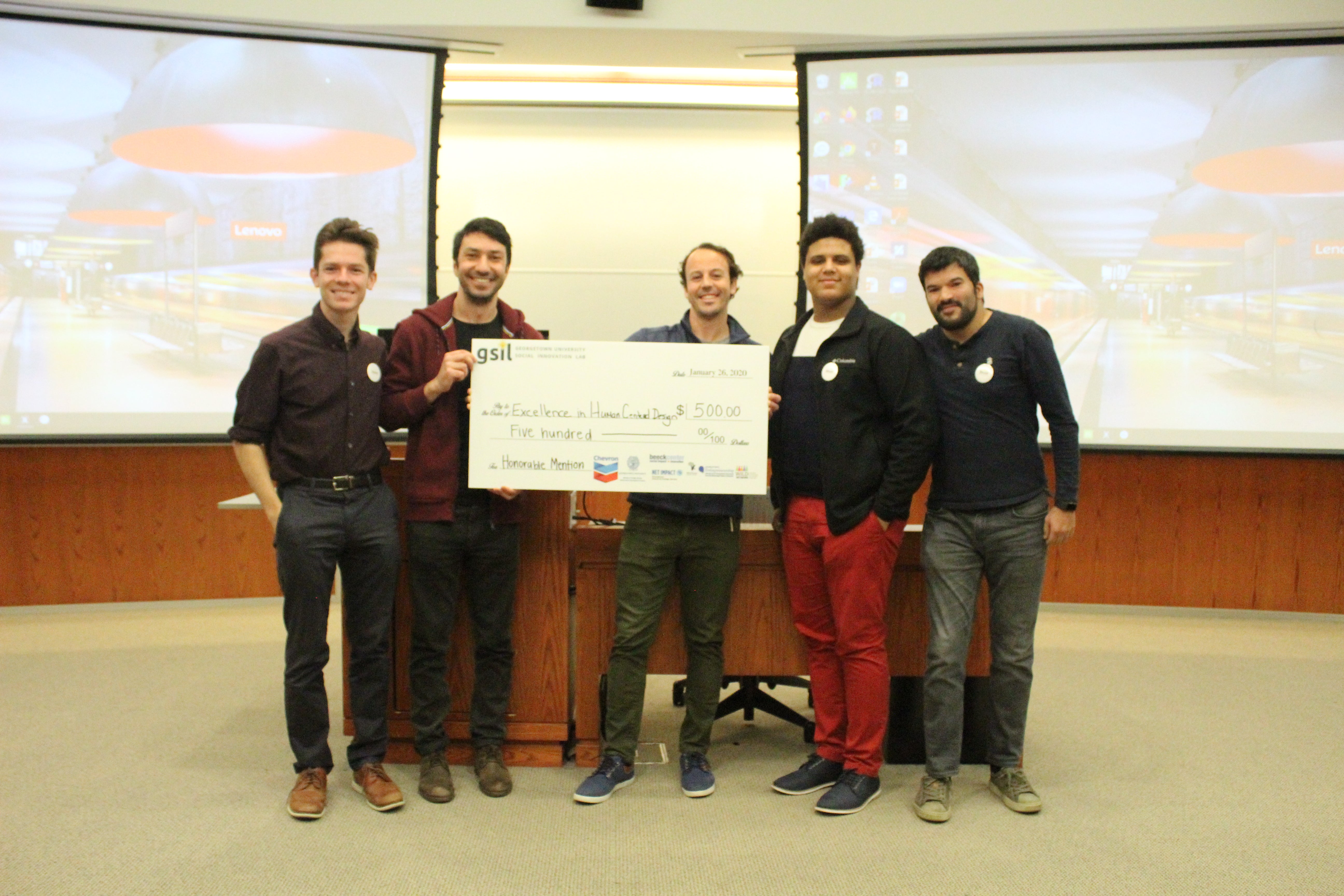 E-Souk's pitch was to curate a virtual marketplace for refugees in the Za'atari refugee camp in Jordan to market and sell their products. This online platform allows refugees to utilize their skills and work where there is a severe lack of opportunities. Team members included Samera Yousuf, GHD, Fernanda Ornelas, GHD, Tracy Kapezi, GHD, Sunny Neelam, GHD, and Hanindha Vidyasti, GHD.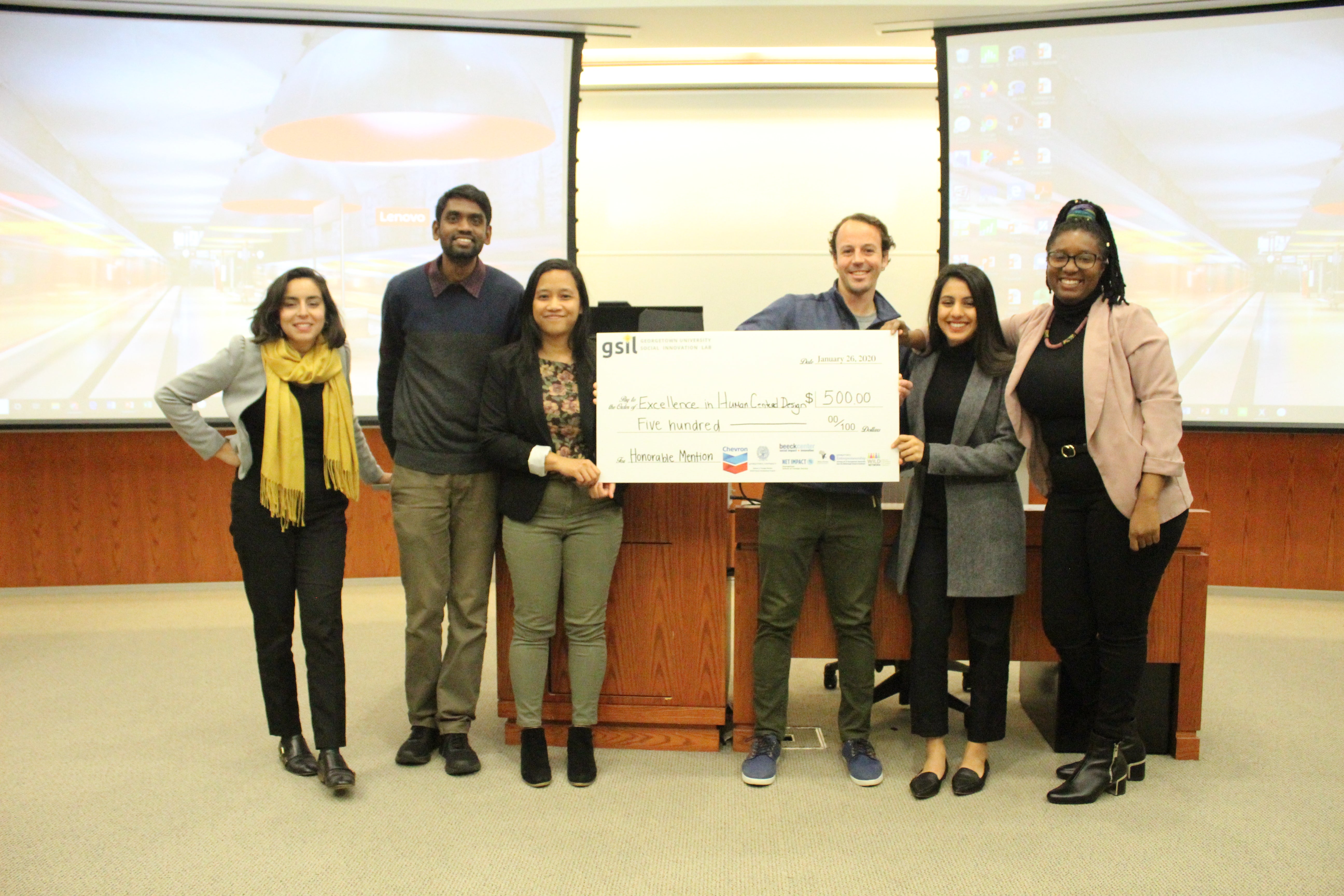 Puentes is an online platform that connects refugees to employers in South America via AI integration. The platform can be accessed through SMS or Facebook plug-in, which ensures displaced people without email can still use the platform. The major goal is to create a bridge to sustainable livelihoods. Team members included Elaina Faust, GHD, Rachel Almeida, GHD, Claire Sacco, MSB, and Gretchen Mohr, MA Global Health.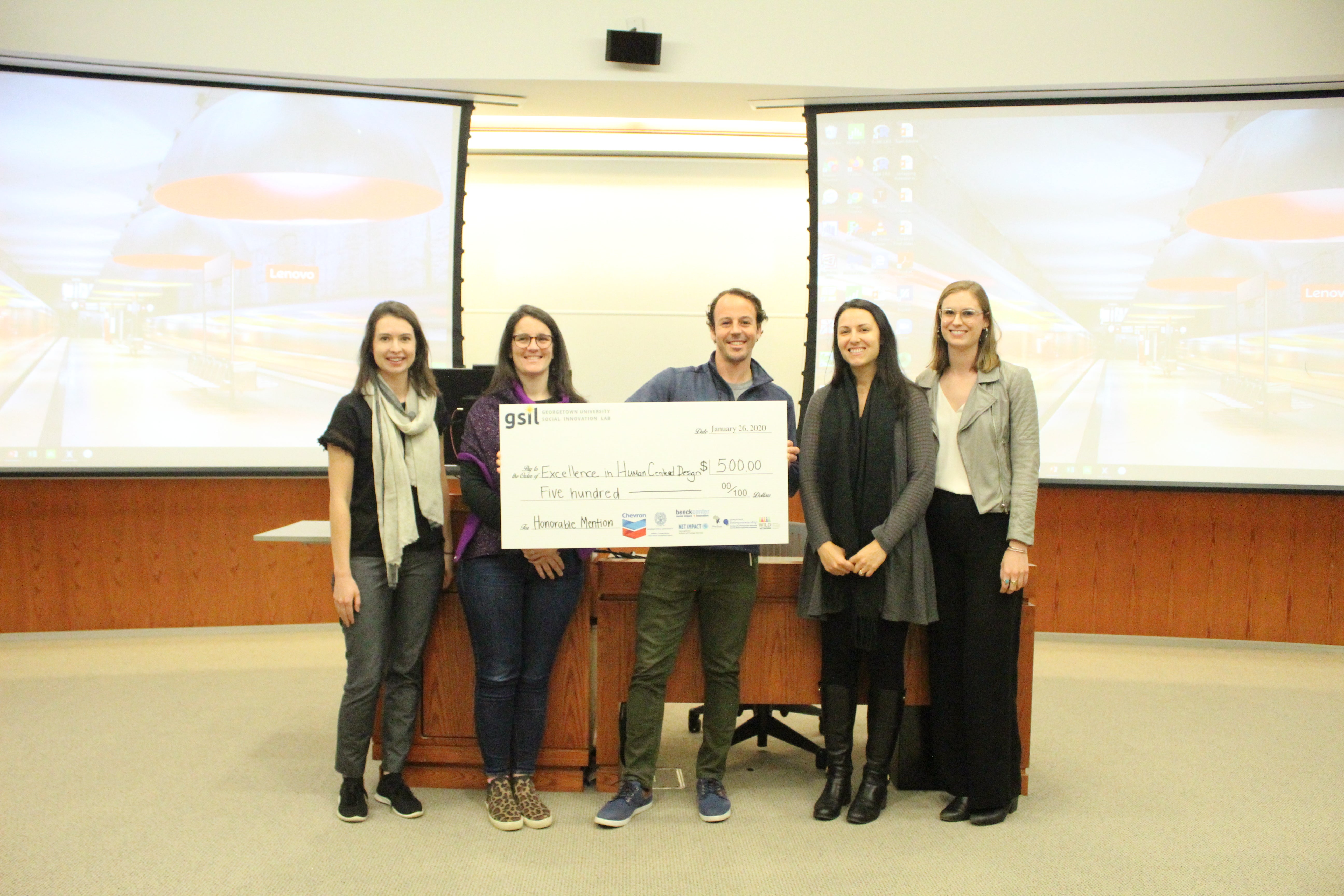 The GSIL successfully gave students a solid foundation on social innovation and design, which they can take forth into future classrooms, jobs, and professional experiences.